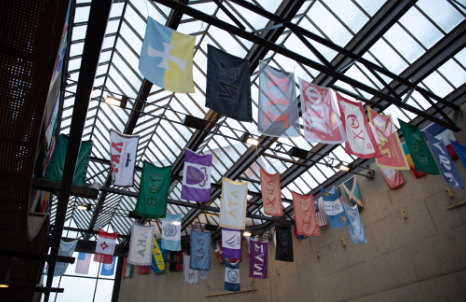 With their colorful jackets, chants, strolls and rituals, Greek Life can seem exciting and attractive to those who aren't apart of it. To those in it, Greek Life has opened many doors to a world of connections, leadership development and opportunity post-college. Like most things at Rochester Institute of Technology, the fraternities and sororities on campus take a different approach to what Greek Life is, what they do and how they go about doing it.
RIT recognizes 31 diverse social fraternities and sororities, with 696 total current members. Each one of these organizations falls under one of three leadership councils.
College Panhellenic Council (CPC) oversees the 5 sororities.
Multicultural Greek Council (MGC) oversees 14 cultural-based fraternities and sororities.
InterFraternity Council (IFC) oversees 12 fraternities.
These governing bodies act as liaisons between the chapters, the university and any national organization or governing body that also oversees the fraternities and sororities. Within each organization, you will find a range of values such as service, scholarship, leadership and brother/sisterhood.
WHY JOIN?
Kimberly Mac is a third year Film Production student and sister of Sigma Psi Zeta Sorority, Inc. She joined her sorority to find a community, and the sisters of Sigma Psi Zeta were there for her during a rough time in her life.
"I joined [Greek Life] for a community. We are at a PWI (Predominantly White Institution), I joined to find more people of color — people I can relate to," Mac said.
Through her time in the organization, she has gained skills as a leader, and served as sorority president for the 2019-2020 academic year.
"It was an easy Fall [semester], but once COVID hit I had to change the way we do things and really step up and lead," she said. "It was hard because I had to adjust personally and my sisters were relying on me as well."
Similarly, third year Finance major Grant Franko joined his fraternity, Sigma Chi, because of the connection he felt with the brothers.
"Originally, I wasn't interested in Greek Life but my orientation leader was in Greek Life and hearing everything he was involved in and the connections he made across campus, really got me interested," Franko said. "After checking out a few other organizations, I really felt the bond with Sigma Chi. I really believe that brotherhood is what drove me."
Franko now serves as the president of IFC and treasurer for Sigma Chi.
READY FOR RUSH?
You've probably seen flyers for "RUSH WEEK" around campus. Fraternities and sororities conduct either formal or informal forms of recruitment (also known as rush) every semester. These events are for students to get to know the variety of fraternities and sororities that RIT offers.
Exact rush requirements can vary by organization, with IFC typically opting for individual rush and CPC engaging in a Panhellenic rush in the fall and a more informal process in the spring. Multicultural organizations typically recruit through a mix of formal meetings and informal events.
RIT requires a minimum GPA of 2.5 to join a Greek organization. Each fraternity or sorority may also have its own GPA recruitments.
BREAKING STEREOTYPES AND BUILDING LEADERS
Greek Life at RIT is such a small group of students. Because of this, they're able to defy some of the stereotypes that are usually associated with fraternities and sororities. "Going Greek" at RIT is more than just the initiation and the parties. Philanthropy, scholarship, brother/sisterhood and community service are just a few of the positive impacts that Greek Life has had on the RIT community.
"Greek Life (at RIT) is definitely different. The students here are hardworking, and being at an academically rigorous school makes us focus on [academics] over anything else," Mac said.
The commitment to academics by RIT's fraternities and sororities has been rewarded by winning the Gamma Sigma Alpha GPA Award every semester since 2014 at the Northeast Greek Leadership Association. This is awarded to the school with the highest difference between the overall undergraduate GPA and the Greek Life GPA. Although academics takes importance over social life, RIT Greeks are still very passionate about community service and giving back to the community here on campus and locally.
"Members of MGC generate more community service than any other group on campus," Mac said. "We try to bring our culture to campus and to the greater community."
Through collaboration events like with AEPi and Sigma Psi Zeta, volunteering with Roar the Vote, Winter Warrior (Phi Psi and Sigma Chi), Teeter Totter (ASA and AEPi) and even an Asian Cultural festival, RIT Greeks attempt to give back to the community in many ways beyond the typical parties.
THE FUTURE OF GREEK LIFE
One of the major concerns for Greek Life is engagement and perception. Not enough students know about Greek Life at RIT and those interested in it can find recruitment to be competitive. As President of IFC, Franko wants to focus efforts across all of Greek Life recruitment to help the average student find their organization.
"We have organizations for anything you're looking at. Philanthropy, social issues or community service — we have an organization that fits everyone," Franko said.
While every organization has its own recruitment strategy complicating any universal efforts, Franko maintains a positive outlook.
"I hope we can start having our organizations work together. I think that will help non-affiliated members really understand Greek Life here," he said.
This sentiment was echoed by Mac as well.
"I think [RIT] tries to hide us sometimes because of those stereotypes, but they know we do good. I want the marketing for MGC to change here on campus," Mac said. "We would really appreciate it if RIT could promote Greek Life more."
Greek Life has opened many doors to a world of connections, leadership development and opportunity post-college to those that have joined. With its roots in service, scholarship and community, there's more to the story than just the letters.