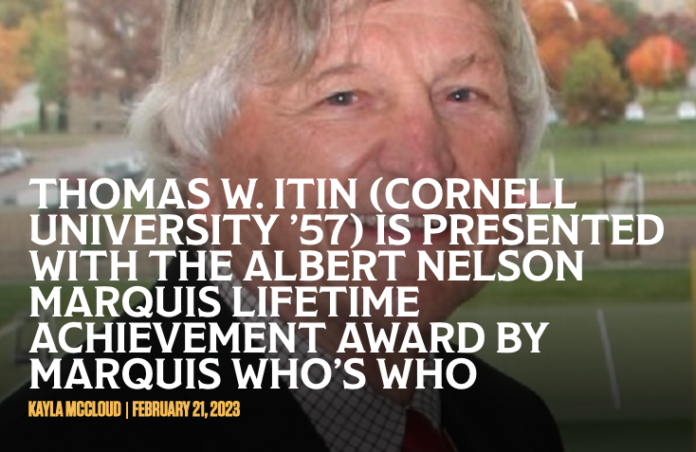 Editor's Note: This press release was first published by 24-7 Press Release and can be found here.
WEST BLOOMFIELD, MI, July 27, 2021 /24-7PressRelease/ —
Mr. Itin has been endorsed by Marquis Who's Who as a leader in the field of entrepreneurship.
Marquis Who's Who, the world's premier publisher of biographical profiles, is proud to present Thomas William Itin with the Albert Nelson Marquis Lifetime Achievement Award. An accomplished listee, Mr. Itin celebrates many years' experience in his professional network, and has been noted for achievements, leadership qualities, and the credentials and successes he has accrued in his field. As in all Marquis Who's Who biographical volumes, individuals profiled are selected on the basis of current reference value. Factors such as position, noteworthy accomplishments, visibility, and prominence in a field are all taken into account during the selection process.
Mr. Itin, president and chief executive officer of TWI International, Inc and Acrodyne Corp since 1964, is a talented entrepreneur whose Michigan-based consulting and advisory firm provides health and telemedicine services to clients. Recognized for the development of telemedicine, his company, which is known to the public as Call A Doctor Plus US, has been a partner with Teladoc for 10 years now and boasts over 50 million members with 80% market share throughout the world. The company also notably offers several added benefits, including legal services.
A serial entrepreneur, Mr. Itin's years as an investment banker, consultant and insurance professional have also included the oversight of LBO Capital Corporation as founder and chief executive officer since 1987. A technology company based in Michigan, LBO develops intellectual property, patents and processes to license to companies including Powder Impression molding of waste plastic and conversion to energy.
Mr. Itin's extensive background included serving as the founder, director and CEO of Williams Controls Inc. in Portland, Oregon, between 1988 and 2002, taking it from $8,000,000 in marginally profitable sales to over $80,000,000 of highly profitable sale and onto the NYSE. Williams invented the first drive by wire instrument: the electronic foot pedal for Class eight trucks with 100% market share to this day.